Our News
03/29/2017 12:22 PM
-
After much anticipation, Borough Cup TV is proud to present our first edition of the "Big Apple Power Rankings." The standings are based on accomplishments, strength of schedule, coach's feedback, and first-hand accounts by tournaments staff.
"We are so excited to finally release this," said Borough Cup Director Zachary Bright. "The response we have received from the NYC Baseball Community has been amazing, and we can't wait to continue this coverage all season long."
As is the case with any new project, Bright was quick to acknowledge that the rankings would continue to improve with time. "Since many leagues' information is not available yet, we were only able to include teams that we could confirm are playing in 2017," said Bright. "We are confident that as play begins, this list will continue to grow and become definitive overall standings for the five boroughs.
Want to nominate your team for the Big Apple Power Rankings? No Problem! You can plead your case in a variety of ways including Email ([email protected]), Direct Message on our social media (Facebook, Twitter, Instagram), or calling us directly at 718-662-653.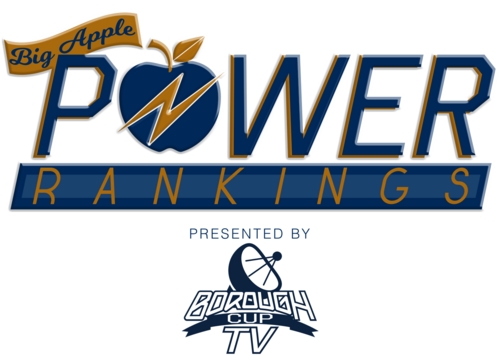 2017-Preseason
U8
1. Brooklyn Bluestorm (2106 Borough Cup Semi-Finalist As U7)
2. Astoria Storm
3. Raiders Baseball Club
4. Bonnie Orioles
5. Brooklyn Bandits
Honorable Mentions: NY Hurricanes
U9
1. Astoria Storm (2016 Borough Cup U8 Champions)
2. SI Baserats (2016 Borough Cup U8 Runner Ups, 2016 MACBL U9 Fall Champions),
3. DHHA Knights (2016 NY Travel PeeWee Summer Champions)
4. Richmond Titans (2016 MACBL U9 Fall Champions)
5. Brooklyn Bulldogs (2016 NY Travel PeeWee Summer Runner-Ups)
Honorable Mentions: Yorkvile (2016 WBA Clemente U8 Spring Champions), SCC Cyclones (2016 Kips Bay Travel U8 Champions), Bonnie Rangers
U10
1. Brooklyn Bluestorm (2016 Baseball Youth Rankings U9- #13)
2. Brooklyn Bandits (2016 Baseball Youth Rankings U9- #28)
3. Raiders Baseball Club
4. Dodgers Elite
5. Bonnie Braves (2016 NY Travel Cub National Fall Season Champions)
Honorable Mention: YSL Lobos (2016 NY Travel Cub American Fall Season Champions)
Brooklyn Bulldogs (2016 NY Travel Cub National Summer Champions) Yorkville (2016 WBA Robinson East U9 Fall Champions), Whitestone Renegades
U11
1. Raiders Baseball Club (2016 Borough Cup U10 Champions)
2. NY Phenoms (2016 Borough Cup U10 Runner Ups)
3. NY Bandits Baseball (2016 AABF Runner Ups)
4. Dukes Baseball (2016 National Youth Baseball Championships, Baseball U10 Final Four)
5. Richmond Titans (2015 Borough Cup U9 Runner Up,2016 USABL American Elite U10 Spring Champions)
Honorable Mentions: Bayside Rebels (NJBL Spring U10 National Champions), Bonnie Braves (2016 NY Travel Cub National Fall Champions),
NY Sluggers (2016 WBA Mays East U10 Fall Champions), YSL Blue Machine (2016 NY Travel Bantam Pacific Fall Runner Ups)
U12
1. Bronx Bombers (2016 U11 Borough Cup Champions)
2. Richmond Titans (2015 Borough Cup U10 Runner Ups)
3. NYCYSO Rays (2016 Borough Cup U11 Runner Ups)
4. BBA Blue Jays (2016 NYTBL Bantam Atlantic Summer Champions)
5. Spring Creek Stars (2016 NYTBL Bantam Pacific Fall Champions)
Honorable Mentions: NY Bluebirds (2016 WBA Hodges West U11/12 Champions), Queens Reds (NJBL Spring/Summer U11 Runner Ups),
U13
1. Dodgers Elite (2016 Baseball Youth Rankings U12- #12, 2016 Perfect Game Rankings- U12, Perfect Game Mid-Atlantic Regional Champions, 2016 U12 Borough Cup Champs)
2. Brooklyn Blue Storm (2016 Baseball Youth Rankings U12- #15)
3. Bronx Bombers (2014 U10 Borough Cup Champions)
4. Ozone Howard Wolfpack (2015 U11 Borough Cup Champions)
5. Astoria Storm Red (2016 RBA Spring League U12 Champions,2015 Borough Cup Runner Ups)
Honorable Mentions: Spring Creek Stars (2016 NYTBL Grasshopper Fall Runner-Up), GNYSAA
BBA Big Blue (2016 NYTBL Bantam Pacific Summer Champions), RCBC American
U14
1. Queens Reds (2016 U13 Borough Cup Champions)
2. NYCYSCO Rays (2016 U13 Borough Cup Runner-Ups, 2015 U12 Borough Cup Runner Ups)
3. Bonnie Paws (2016 NYCAA Spring/Summer U13 Champions)
4. BBA Bombers (2016 NYTBL Grasshopper Summer Season Champions)
5. Team Citius
Honorable Mention: Brooklyn Bandits, TM Select U14,
New York City Travel Baseball Leagues:
NY Travel Baseball League (NYTBL)
NYC Elite Travel Baseball League (NYCE)
Brooklyn Kiwanis League (BKL)
Brooklyn Baseball League (BBL)
Williamsburg Sports League (WSL)
Parade Grounds League (PGL)
Westchester Baseball Association (WBA)
Rockland Baseball Association (RBA)
Mid Atlantic Championship Baseball League (MACBL)
NCYAA